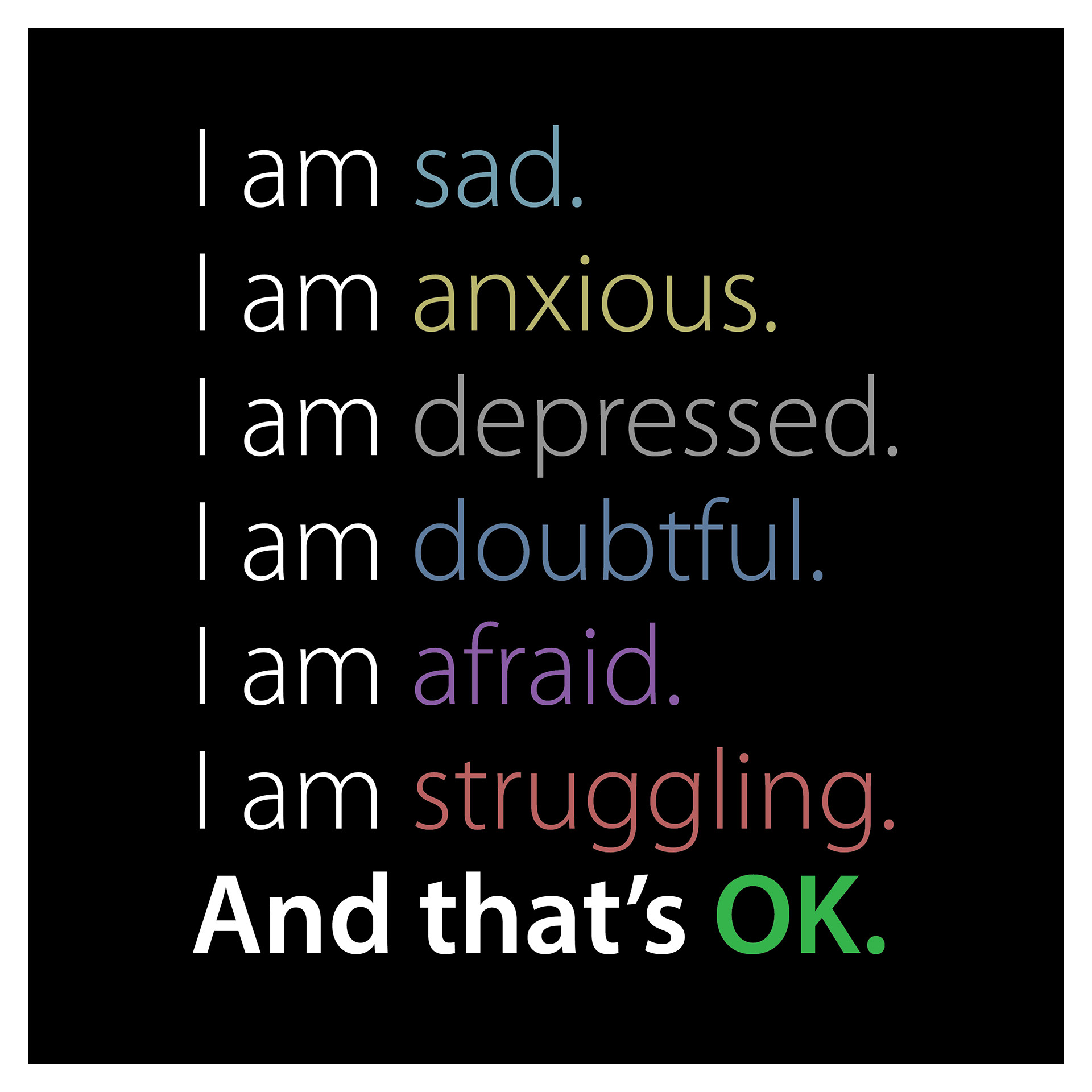 A simple, self-initiated type design layout that was created when my mind was in a very dark place. Every human has felt one or more of these emotions, and that's okay.
I researched the colours that best represented each feeling (links out to articles outlining colour choices):
I decreased the saturation of each colour (excluding the green for "OK") to represent how each feeling we experience is also energy draining to us as human beings. It can also represent how these feelings can also shut us down emotionally and "mute" how we really feel when we're under stress.
In contrast, the green in "OK" is bright and vibrant to represent hope and strength despite all of the negative feelings and colours that come before.
The black background represents "the dark place we experience these thoughts in" and the square aspect ratio shows how we feel "boxed in, siloed, and isolated." 
The typeface Myriad Pro is a '
"humanist" sans serif
 typeface, a relatively informal design taking influences from handwriting'. This was a very personal experience for me when creating this piece, but I also wanted to communicate a message loud and clear without using handwriting as the typeface.
Sans serif typefaces are clean and presentable, but are also straight to the point with communicating the message.
The lighter font (Myriad Pro Light) represents fragility, weakness, and vulnerability that we as humans feel when we experience poor mental health.
In contrast, the heavier font (Myriad Pro Semibold) represents strength and confidence.
The repetition of "I am" creates consistency and unity among all of the feelings. The repetition also illustrates the seemingly never-ending cycle of negativity we experience when struggling with mental health.
The last sentence "And that's OK." breaks this cycle, which relates back to the idea that in order to get out of the cycle of poor mental health, we have to acknowledge the cycle and change it.